Insurance companies have spent $17 million to defeat proposals to weaken or abolish the for-profit bail industry in the United States, a system that brings insurers $15 billion in business a year, according to a Reuters analysis of campaign contributions, company financial statements and interviews with more than three dozens experts on criminal justice, campaign finance or bail.
The spending has jumped more than 10-fold since 2010 as insurers have led the industry's lobbying effort, targeting laws in more than a dozen states, the analysis shows.
The industry opposition comes as President Joe Biden and other Democrats have renewed calls to dismantle what they describe as a biased system that harms mostly low-income people.
Illinois last month enacted a law to abolish cash bail by 2023, but it had already ended for-profit bail in 1963.
The insurance industry has succeeded, however, in beating back such measures in other states, allowing insurers to increase sales even as public pressure grows to reduce or eliminate cash bail. In 2019, bail insurers increased premium income by 8%, according to insurance credit agency AM Best.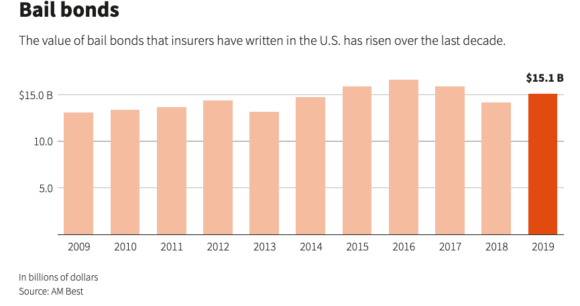 Bail is meant to ensure people charged with crimes appear in court. Amounts range from as little as a few hundred dollars to $100 million or more. Defendants who post the full amount are freed pending trial and typically get their money back.
Those unable to afford bail can buy a "bail bond" – insurance guaranteeing that the full bail…