CNN
—  
When Olympic gymnasts compete Sunday and Monday in the individual floor exercises in Tokyo, viewers will notice a key difference between the events.
The women will leap and flip and tumble to recorded music. The men's routines will be accompanied by silence.
The reason for the disparity dates back almost a century, when female gymnasts competed for the first time at the Olympics and rules for their events were established. Experts in gymnastics say expectations for female athletes were different then.
But even though women gymnasts today are more powerful and athletic than their counterparts from the mid-1900s – sometimes even doing things men can't do – elements of dance, choreographed to music, remain a required component of their floor exercises.
In other words, women must perform their floor routines to music.
Some say it's time to do away with that rule.
Male gymnasts competed in the Olympics for the first time in 1896. Women's gymnastics made its debut more than three decades later, in 1928.
When women started competing, the sport was tailored to fit the preconceived gender roles at the time, experts say.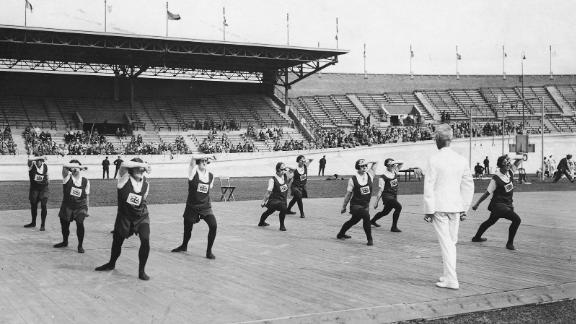 George Rinhart/Corbis/Getty Image
The British women's gymnastics team during the 1928 Olympics in Amsterdam, the first year female gymnasts competed in the Games.
…