Hammered by waves of layoffs, swooning stocks, collapsing cryptos, and 6% mortgage rates.
Home prices for all of California are down, Southern California too is getting hit, even San Diego, but the Bay Area is the standout in terms of the steep and deep plunge in prices.
Sales of single-family houses plunged by 37% year-over-year in the Bay Area. But in Southern California, where price declines haven't been that huge yet, sales collapsed by 48%. In all of California, sales plunged 44%, to 240,000 homes, just a hair higher than during the bottom of Housing Bust 1 in late 2007.
The median price of single-family houses in the San Francisco Bay area plunged by 30% in December from the crazy peak in March 2022, by nearly $455,000, from $1.54 million to $1.08 million in nine months, according to the California Association of Realtors today.  The plunge in December – after months of layoff announcements by big and small companies in the area – was particularly brutal.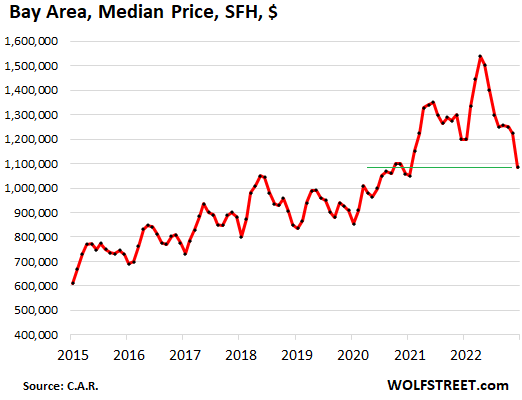 That this 30% plunge from peak only put the median price back roughly where it had been in December 2020 shows how crazy the price spike had been during the free-money pandemic. But not many people bought a house during these two years. So in essence, this 30% plunge isn't a big deal in the overall scheme of things.
But for people who used to look on Zillow constantly to see how much richer they have gotten by just living there, well, they might have to stop…