A Tennessee Tech professor is rejecting his colleagues' attempts to label him as a "racist" in flyers posted on campus.
Faculty members Julia Gruber and Andrew Smith allegedly spread flyers on campus that said the school's Turning Point USA members and the chapter's faculty adviser, Andrew Donadio, were not welcome, according to Fox 17 Nashville.
"I'm not sure why they would decide to attack the students and myself, and create an environment that's hostile to communication, that's threatening and intimidating," Donadio told "Fox & Friends" on Saturday, adding that his colleagues who posted the fliers were "experts in English" and "knew exactly what they were doing."
TOP COLLEGES SEE SURGE IN APPLICATIONS DURING COVID-19 PANDEMIC
Gruber is an associate professor of German and Smith is an English instructor, according to the report.
Turning Point USA is a conservative grassroots organization with a mission to "educate students about the importance of fiscal responsibility, free markets, and limited government," according to its website.
"Professor Donadio and Turning Point USA. You are on our list," the flyer reads. "Your hate [and] hypocrisy are not welcome at Tennessee Tech!"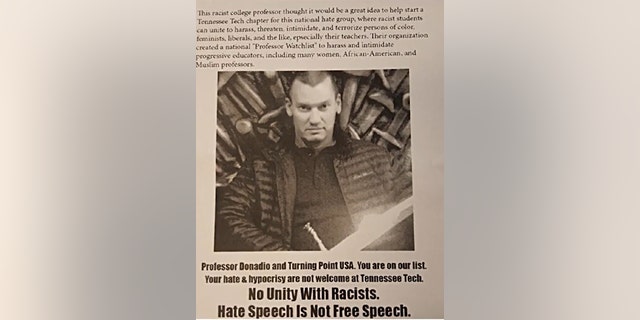 It continues: "This racist college professor thought it would be a great idea to help start a Tennessee Tech chapter for this national hate group, where racist students can unite to harass, threaten, intimidate and terrorize persons of color,…