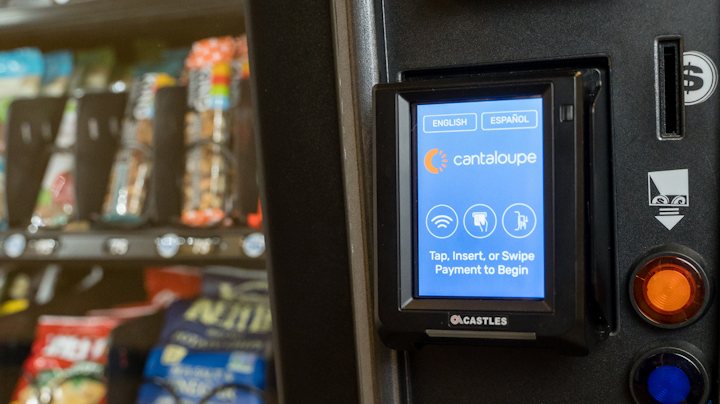 [Credit: Cantaloupe Inc.]
Digital payments company Cantaloupe Inc., formerly USA Technologies, said it will begin shipping its next generation touchscreen devices in early fall this year.
EPort Engage and ePort Engage Combo are the latest iterations of company's ePort series. Cantaloupe said the new devices will provide retailers the ability to "captivate consumers in new ways and enables truly frictionless purchasing."
ENGAGE KEY POINTS
Accepts all digital payments, including EMV chip, EMV contactless, magstripe and mobile wallets.
Seamlessly integrates with Cantaloupe's Seed software to keep businesses connected.
All-in-one card reader and telemeter design for quick-and-easy installation.
Advanced anti-tamper security features.
PCI PTS 5.X compliant for processing payments and data at the highest level of security.
For ePort Engage: edge-to-edge 3.5" touchscreen to maximize engaging customer interactions.
For ePort Combo: a 2.5" touchscreen with built-in flexibility to fit over a bill acceptor.
Cantaloupe observed that the past year has seen technology leveraged to help consumers be safer while shopping and dining out, speeding up the adoption of contactless payments. But those same consumers still want a personalized experience.
"We believe retailers across the board will benefit from this next generation of devices," said Cantaloupe chief technology officer Ravi Venkatesan. "The ePort Engage series is a great option for unattended retailers, as…